Welcome to the all new Dixon Miniatures website!
Built from the ground up our new site features a modern, easy to navigate design with the following new features:
Product Search:
Search by keyword or the exact product code, our search engine will find the item you're after!
Responsive Design:
Whether you're viewing our website on your computer, your tablet or your phone, our site will now change its design to best suit your device - no more zooming in and out!
Laptop:
Smartphone: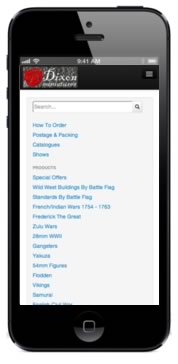 Image Lightbox:
No more image pop ups!
Social Features:
Share products with fellow enthusiasts!
We'd love to hear what you think of the new site - click here to Contact Us.
PIRATE SHIPS
At last, the much sort after pirate ships (25-28mm scale) are now back on the market. Cast in resin and white metal, these ships surely must be a must for any pirate game. Ship pictured is PSH3 - 24 gun MAN O WAR.