A VERY MERRY CHRISTMAS AND HAPPY NEW YEAR TO ALL.YO HO HO!!
Almost Forgot..................This year is my 40th Anniversary in the miniatures business! Yes folks, just 40 years (well back in February I think)
since a callow, spotty faced youth walked into Hinchliffe Models................more later, probably deserves a page on its own this?!


AMAZING CHRISTMAS OFFER:- OVER 30% off 25mm ARMY PACKS!
And don't forget,Army packs are already heavily discounted, so it works out at
less than HALF THE PRICE of buying individual figures!!
------------------------------------------------------------------------------------------------------------
Welcome to the all new Dixon Miniatures website!
Built from the ground up our new site features a modern, easy to navigate design with the following new features:
Product Search:
Search by keyword or the exact product code, our search engine will find the item you're after!
Responsive Design:
Whether you're viewing our website on your computer, your tablet or your phone, our site will now change its design to best suit your device - no more zooming in and out!
Laptop:
Smartphone: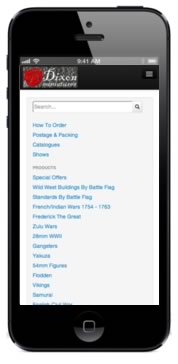 Image Lightbox:
No more image pop ups!
Social Features:
Share products with fellow enthusiasts!
We'd love to hear what you think of the new site - click here to Contact Us.
28mm Quantrill's Raiders
____________________________________
---
Coming soon:- 28mm WWII SAS Jeep - Northern Europe 1944.
_______________________________________________________________________________
COMING SOON:- 28mm CHINDITS!............... "They don't like it up em"!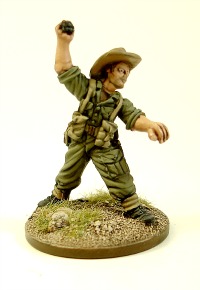 ---
Please Note
FOR THOSE NEW TO THE HOBBY, ALL OUR FIGURES ARE SUPPLIED IN UNPAINTED WHITE METAL.
Battle flag Buildings
We now stock the Wild West Buildings by Battle Flag, superb detail and realism!!
PDF files
Most of our ranges can now be downloaded as illustrated line drawings on PDF files. Please note that these lists will have on them our previous address and details as they were scanned into the computor when we were still at the old address.